Recently I attended this years' BESIG conference in Malta. As well as meeting very interesting people who also work within the English language world, I really enjoyed some of the talks and workshops. On top of this, I was able to take a bit of free-time on the beautiful Mediterranean island to enjoy its beauty, culture, history and good weather
For me there were two talks that stood out, the first was by Helen Spencer-Oatley, Professor and Director of the Centre of Applied Linguistics at the University of Warwick. Her talk was about her research in the interrelationship between Culture, language and business relations.
She broke it up into small digestible bite size parts, the first focused on models used for intercultural competencies and how all of them all agree that one of the key elements is communication. But she highlighted the fact that they are almost always lacking the information of which components are needed to communicate effectively across cultures. She gave us some useful tips on building frameworks to address this gap.
In the second part, Helen spoke about the impact that culture can have on Business relationships and culture. She explained that in the past, cultural understanding has often been based on such things as values, high/low power distance as well as individualism/collectivism even though recent studies have shown there are limitations to these factors.
The final part, which I found useful, looked at tools out there of which many are free for educators and learners alike. These tools are a great source to encourage and create awareness and skills to help us communicate effectively across cultures.
After her talk, I was lucky enough to steal a bit of her time to discuss my interest and work in multicultural communications. I explained to her, that in my opinion, many of my clients and other companies cannot only think inter-culturally but more multi-culturally due to there often being participants in meetings, teams etc from many nationalities and cultures. She said that she agreed with my points and would like to talk about it with me further, so hopefully we will find time to sit down together and brainstorm ideas on how we can make these frameworks work across the multicultural board!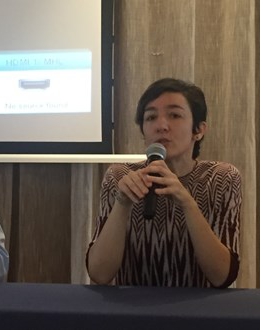 The second talk, by Allesia COGO, had a really big impact on me to the point that we will be re-thinking some of our concepts for next year. It was about Business English as the Lingua Franca (BELF) and its implications on Business communication and in turn on Business English training.
She spoke about how we cannot dispute the fact that English has become the international Lingua Franca, but the English language no longer belongs only to the Native speakers such as the Brits, American, Australians or the New Zealanders but actually to all those that speak it.
Due to this she spoke about how practitioners and teachers need to plan differently to ensure their clients are learning what is necessary for them. She gave some very good tips on how we can give our clients a usable English, quicker than we can with traditional methods that do not take globalization into account.
Another valid point that she made was, we should not forget that efficiency is more important than accuracy especially when 2 non-natives are communicating with each other. Meaning they do not need to spend a lot of time reducing their accents or learning every element of grammar they should focus on being able to react quickly and explain something clearly.
As I said, this talk had such an impact on me that I have decided to create a BELF course for my clients starting early 2018. Watch this space!!

Here is a short video, with some of the delegates giving their feedback:


Tags: